Universal Testing Machine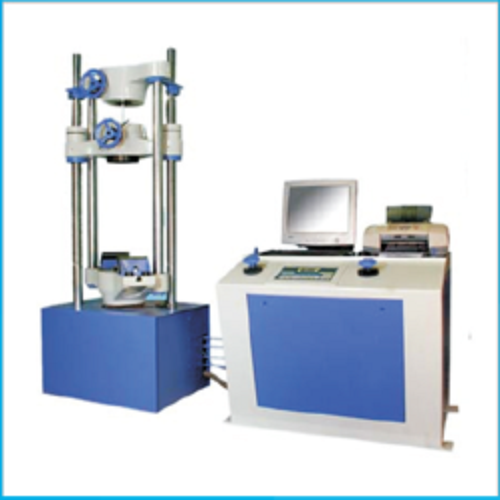 Universal Testing Machine
Price And Quantity
Unit/Units

450000.00 - 4500000.00 INR
Product Specifications
Universal Testing Machine

MS
To test the tensile strength and compressive strength of materials

2500
40 TOn Tons/year

computerized
Industrial

2500 Kilograms (kg)
Product Description
UniversalTesting machine capacity 40 Ton
Specification:-
Connected Load: 2.3KW
Operating Voltage: 400-440VAC, 3 Phase
Ram Stroke: 200mm
Displacement Resolution: 0.1mm
Extension Resolution: 0.1mm
Piston speed at no load: 0-150mm/min
Clearance for Tension test:50-700mm
Clearance for Compressiontest: 0-700mm
Clearance between columns: 500mm
Cross head speed: 100mm/min
Load Accuracy : Less than 1% of measured value
Displacement Accuracy : less than 1% of measured value
Application: UniversalTesting Machine it can perform all the tests right from compression, bending totension and examine the material in all mechanical properties.
Accuracy & Calibration: Machine is the calibrated over each of the measuring ranges in accordance with the procedure laod down in british stsndards 1610:1964 and IS: 1828 - 1975. Universal testimg machine comply with grads "A" of BS: 1610-1964 and grade 1.0 of IS:1828 -1975 an accuracy of 1% is guaranteed from 205 of the load range selected to full load bellow 20% of the selected range the maximum permissoble errpr is 0.2% of the full reading.
Machine consists of : Straining Unit ,Control panel power, HydraulicControls, Load indictor System, Automatic Continuous Roll load- Elongationrecorder
Software Features:
Test can conduct:
Tensile test
Compression test bend Test
Single Shear
Double Shear
Proof test (Stress Vs 5 strain(if Extensometer is used)
Vs Displacement
Specimen types:
Round
Flat hollow
Tor/ TMT steel
Some date Entry points :
Pre- load Date Entry to avoidslippage in graph
Fully customized data entry
Extensometer Gauge lengthSelection-10, 25,50 mm
Lower force data entry in %of maximum load to calculate proof stress
Units:
Load :KN, kG, N
Tress: KNmm2, Nmm2 (Map),Kgmm2
Displacement : mm
Before start test you willget all information entered regarding test.
Fully customized header& footer information for test report.
Facilities to search : ultimate Load Maximum Displacment %, Elongation%, Reduction in area, Brealing Load, breaking stress, Yield load, yield Strenght, 0.02% proof strenght 0.5% proof , Strenght 1% proof , stremght all proof loads, Youngs modulus

Contact Us
Plot No. - H-307, Industrial Area, Karoli, Bhiwadi, Rajasthan, 301019, India
Phone :+918037551191